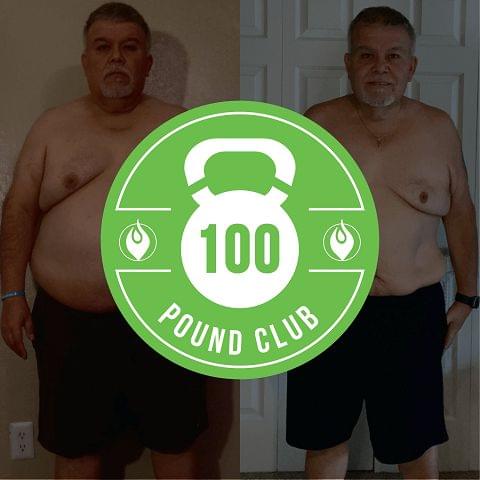 Welcome to our newest 100lb Club member:
Eleazar Martínez (USA)
Will. Discipline. Constancy.
It is not an easy task to join our 100lb Club. It takes a lot of work and effort, believing that nothing is impossible, and that's why today we give a well-deserved recognition to Eleazar Martinez, from the United States, for having reached his goal of losing 45 kilos.
This is his story: I am very happy to tell you my story about how I reached my goal and my biggest dream of being part of the 100 pound club.
When I started taking the YOR Health products my weight was 350 Lbs, I was out of control. I didn't like how heavy I was, I didn't feel good about myself. I was depressed but I hid it from people, when I went out I pretended to be happy. I put on my big fake smile and friends would say you're always happy without knowing I wasn't. Sometimes when I was invited to visit friends, birthday parties, or special occasions, I would just make excuses as to why I couldn't make it.
I looked at myself in the mirror and thought how I would look compared to my friends. My friends dressed nicely because they didn't weigh that much. In me I only saw this figure of a penguin, without a neck, without legs, just a round ball. I was fat and did not have a body figure. My clothes did not fit me, I never showed my fat body, and I wore coats or sweaters in the summer just to hide it.
The moment I found a bit of hope was when I listened to radio host Perla Barraza, and found her Facebook profile. I watched her videos and realized that she was heavy and suddenly she looked skinny.
She had lost a few pounds and I said to myself: I want to know her secret. I approached her, she was very kind and put me in touch with Rosario Barraza. I wanted to know what she did to lose all that weight and keep it off. That's when I was first introduced to YOR Health supplements. I wanted to have the same results as her, so I decided to start with the supplements and joined the YOR Best Body challenge. Once I started taking them, I saw great results and even won second place. I took the YOR Shakes, YOR Digest Ultra (my best friends), YOR Repair Ultra, YOR Probiotics, YOR Essential Vitamins, YOR SuperGreens and YOR Fiber Plus. I kept losing weight. I had all this energy that I didn't have before. I could go on all day without feeling as tired as before.
Now I'm on top of the world. I have lost about 142 pounds. I started at 350 pounds, and today I am at 208 pounds. How long did it take? I'm a little embarrassed to say it, but it took me about 2.5 years because I would lose weight and then give up. But I decided to stop playing with my health and keep pushing to lose weight. I wanted to get healthy and achieve my dream of being in the 100-pound club.
I am super excited to have surpassed my goal and to have managed to maintain it. I used to have a hard time taking my clothes off even for YOR Best Body photos and now with my confidence it's hard to keep my clothes on. LOL. I take a lot of photos to show on my social media that the YOR supplements do work and that the weight is off. Who am I thankful for? First with Jesus, second with YOR health because without the company I would still be in that dark hole: depressed and fat. And third, with Perla Barraza and Rosario because without them I would not have known YOR Health, and of course, with Iris Gomez for sharing her knowledge and inspiring me to keep going. Without them I would not be telling my success story.
Thank you YOR Health for changing my life!
Congratulations and welcome to the 100lb Club, we are proud of you and we are sure that this achievement is just the first of many to come.
Are you ready to become a member of
the 100-Pound Club
?
[Read More]