Nutrition
1.
Prepare 4-6 small meals each day
Prepare meals that can fit on a standard salad plate or in a small bowl; versus 2-3 large meals each day on a large dinner size plate.
2.
Do not eat on the go!
Place food on a plate, sit down, breath, and chew slowly enough to actually enjoy the food you are eating. Do not watch TV, read, or do any other distracting activity while you are eating. It will distract you from noticing when you are full. It takes about 20 minutes for your brain to register when your stomach is full.* To decrease the likelihood of overeating, try to remind yourself to stop eating when you feel like you are about 80% full. Eating slowly not only helps prevent overeating, it allows your body to properly breakdown foods, supporting the absorption of nutrients. Digestion actually begins in the mouth where digestive enzymes are secreted in the saliva. Eating too quickly stresses the digestive system and does not allow for the proper breakdown of food.* To further support digestion and nutrient absorption, try YOR Digestive Enzymes.
3.
Do not make a drastic transition in eating patterns!
A common reason why people struggle with diet changes is that they try to make a drastic change, and then cannot follow through when they crave the foods they typically eat. For some people, a drastic change can help, such as cutting out all sweets for two weeks to help reduce cravings, but for many people a gradual transition to healthy eating is more realistic. Do what works for you to get to where you want to be. For most people, it is helpful to follow a structured eating program with one privilege food a day. For some people a privilege food may be something fattening and for others they may crave something sweet. As you develop healthier eating patterns you will learn to crave more healthy versions of these types of foods, such as fruit for sweets and deliciously seasoned meals versus high fat meals.
4.
Never skip meals.
When working towards a weight loss goal people sometimes feel guilty when they eat frequently throughout the day. They get the idea that if they skip a meal they are helping to reduce the amount of calories they are taking in. What they don't realize is skipping meals disrupts metabolism and makes you much more likely to binge eat in the evening. You are much better off allowing yourself plenty of eating opportunities throughout the day and limiting your food intake in the evenings, than trying to cut calories and skipping meals during the day and then finding yourself binging at night. Never let stress cause you to skip a meal. If you are skipping meals because of stress, it will only put more stress on your system. For a nutrient rich meal replacement, try YOR MRP®.
5.
Consume a greens drink such as YOR SuperGreens
For those who typically consume higher-fat, non-nutritious foods, it can be difficult to transition towards lower-fat, nutrient dense food choices such as fruits and vegetables. YOR SuperGreens supports total body health by providing a variety of vitamins, minerals, amino acids, fatty acids, and phospholipids. It contains the anti-oxidant power of approximately 24 servings of fruits and vegetables, making it a must for any healthy eating program.
6.
Do not get discouraged when you do not see immediate results
You need protein, carbohydrates, and healthy fats. Determine how much protein you need each day and make the majority of your protein intake from foods such as very lean white chicken breast, egg whites, and fish.
7.
Clean out your pantry
Do not have foods in the house that are going to tempt and torment you. If you have a bag of cookies sitting in your pantry it will make your healthy eating goal much harder to stick to. Keep your kitchen and pantry stocked with healthier options so you are not tempted to snack on less nutritious foods
8.
Eat a full meal before you go grocery shopping
Never go to the grocery store when you are hungry, or have a craving. If you go with a full stomach it will be easier for you to resist buying less nutritious foods
9.
Make sure you are getting plenty of fiber in your diet
Fiber plays a major role in digestive health and cardiovascular health. It is recommended that men ages 19 to 50 years should have about 38 grams of fiber each day, while women ages 19 to 50 years should have about 25 grams of fiber each day. Men over the age of 50 should get about 31 grams of fiber each day and women over the age of 50 should get about 21 grams of fiber each day.* To add more fiber to your diet, try eating more fruits, vegetables, and whole grain foods
10.
Get calories from foods, not beverages
You would be shocked if you added up the amount of non-nutritious (empty) calories many people consume each day. Think about how often you drink a soda or a sugary coffee-drink. These drinks not only have high numbers of calories, they have high amounts of sugar. For people who generally consume 1-3 sodas a day; just cutting out this habit will make a noticeable difference in long-term weight loss and maintenance. If you are a person who must have something other than pure water with meals, try substituting one, 8 oz glass of 100% fruit juice, no sugars added, a low-sodium vegetable juice, or add a slice of fresh fruit to your water to add flavor. A slice of orange or lemon is a nice addition to a glass of cold water. Try to consume at least eight, 8 oz glasses of pure water each day.
Fitness
1.
Make physical activity a non-negotiable priority
Think of it as a second job; if you do not show up so many days each week you will be fired. If you do not get enough physical activity you will greatly increase your chances of developing unwanted and potentially life threatening health afflictions if not in the near future, later in life.
2.
Vary the types of physical activities you engage in
Engaging in different types of physical activities not only keeps things interesting, it is much better for your body. Engaging in different forms of exercise helps you to use all of your muscles, therefore helping to increase strength throughout the body. For example, try engaging in strength training, endurance training, and balance and flexibility exercises. Don't limit yourself to one type of exercise
3.
Start out gradually
If you are not physically active, do not go out one day and vigorously exercise for two hours. This often leads to extremely sore muscles and sometimes injury. The best way to begin a physical fitness routine that you will stick to is to begin slowly with light exercise. Give your body and cardiovascular system time to adjust to increased physical activity. Make sure to give your body at least one rest day a week. Even if you are already physically fit you still need to allow your body time to rest and recover. If you are not physically active it is best to begin power walking or jogging for about 15-25 minutes once a day for 2-3 days, rest one day, then increase to 30 minutes for 2-3 days. Push yourself, but do not push yourself too far. Once you have built up strength you can begin to push yourself further. To support muscle and tissue recovery after exercise, try YOR Repair®
4.
Warm up before exercise
Engage in full body stretching exercises and spend some time walking before engaging in more vigorous exercise. Preparing your body for intense exercise is beneficial for your muscular and cardiovascular systems. You are less likely to become lightheaded or fatigued and experience injury when you prepare your body for increased physical activity. Also, stretching exercises or yoga are great activities to engage in first thing each morning to get your blood flowing, increase flexibility, and reduce the risk of injury throughout the day.
5.
Set a goal for yourself.
For example, at what weight and fitness level would you like to see yourself six months from now? Accomplishing this goal will be extremely rewarding!
6.
Do not get discouraged when you do not see immediate results.
The length of time it will take to see noticeable results will vary person to person. For most people, it will be at least 4 weeks before you will see noticeable results. It is most healthy for your body to lose weight at a rate of 1-2 pounds per week, depending on your current weight and fitness level.
7.
Do not wait until you are exercising and start to get thirsty to drink water!
At this point you are already dehydrated. Make sure to consume water throughout the day. Water makes up about 60% of the total body weight of a normal adult.* You lose water through sweat when exercising. Therefore, it is important to take in water before, during, and after physical activity to replenish fluid loss from exercise.
8.
Focus on your core
Strong abdominal and back muscles are critical for strength. A strong core is a central component in overall fitness.
9.
Cool down after exercise
Let your heart rate slowly go down and allow your muscles time to adjust and relax. This is as important as warming up for exercise. Treat your body kindly if you would like to experience good results. For example, after intense workouts try taking a leisurely walk; gradually decreasing your pace as you go. After walking engage in full body stretching exercises
10.
Make sure you are following a healthy eating plan
Diet is a critical factor for success in any physical activity program. You need to be consuming a sufficient supply of carbohydrates, protein, and healthy fats for success. To function at its best, your body needs nutrients from all food groups
Lifestyle
1.
Wash your hands!
It is estimated that as much as 80% of all infections are transmitted by hands.* Harmful germs can live on almost everything and hand washing is the most important act you can do to protect yourself and stop the spread of infection.* Also, to help protect yourself from germs, try not to touch your face as much as possible since germs from the hands can be transmitted into the eyes, nose, and mouth.
2.
Laugh
We have all heard the saying 'laughter is the best medicine.' Research shows that humor and laughter contribute to overall wellbeing by reducing stress, boosting mood, and promoting instant relaxation.
3.
Have a hobby.
Finding an activity that you are passionate about and enjoy will help reduce stress and may contribute to longevity. Even with hectic lifestyles it is an important part of life to take part in the activities you enjoy.
4.
Take part in social activities.
Taking part in social activities is an important part of overall wellbeing for all age groups. It stimulates the mind, provides a sense of belonging, and usually improves mood.
5.
Take a walk outdoors every day.
Whether it is first thing in the morning, on your lunch break, or after dinner, breathing in fresh air clears the mind and even this little bit of physical activity supports metabolism.
6.
Enjoy physical activity.
A physically active lifestyle is a huge contributor to good health and wellbeing. If you are not currently physically active, start out doing activities you enjoy. Take horseback riding lessons, swim, or take a dancing class, whatever it is you find enjoyable, do it!
7.
Always stay hydrated.
For every system, tissue, and cell in the body to function, adequate hydration is a must.* Always make it a priority to drink at least eight, 8 oz glasses of water each day. Make the majority of your fluid intake come from pure water. Staying hydrated supports healthy immune function, decreases fatigue, and supports the health of every cell in your body.
8.
Do not smoke.
If you smoke, quit. Of course this is much easier said than done. Every time you put a cigarette in your mouth think about this; Smokers' risk of developing coronary heart disease is 2-4 times that of nonsmokers.* Your spouse has a 42% higher risk of stroke than if they were married to a non-smoker, even if they themselves have never smoked.* You are increasing your risk and the risk of those around you of developing asthma, lung cancer, and various oral cancers, among other health afflictions. In addition, your children will be more likely to smoke.*
9.
Limit alcohol consumption.
Excessive and prolonged alcohol intake stresses the liver, weakens the immune system, and dehydrates the body.* Limit your alcohol intake to as little as possible, and try to avoid binge drinking. When you are intoxicated you are more likely to make dangerous and unhealthy decisions that can jeopardize your health and the safety of yourself and others.
10.
Make it a priority to receive regular medical care.
Keeping up to date with regular check-ups, vaccinations, dental care, and eye care is important for overall health now and in the future.
Recipes
Berry Vanilla Chia Smoothie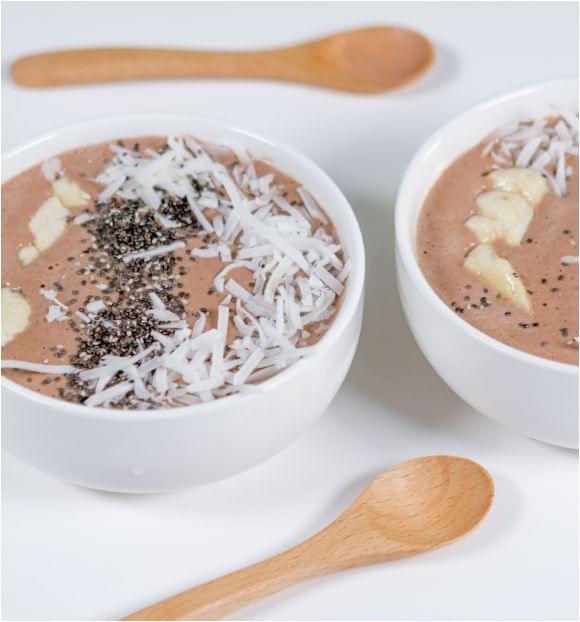 Chocolate Overnight Oats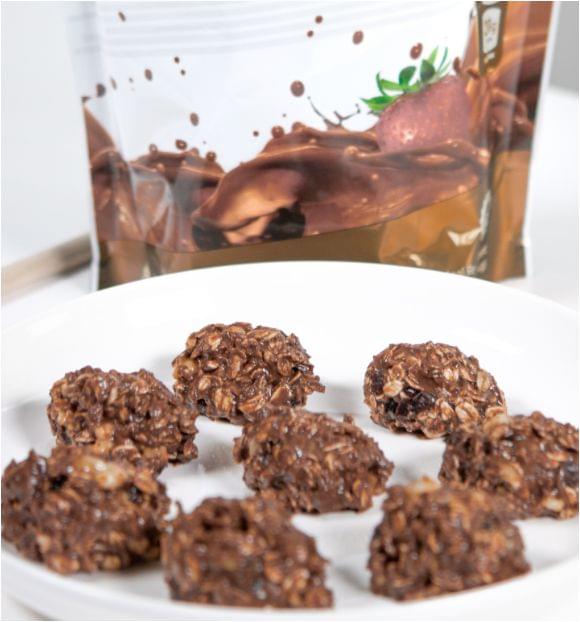 Protein Bites